Moonroof vs. Sunroof: What's the Difference?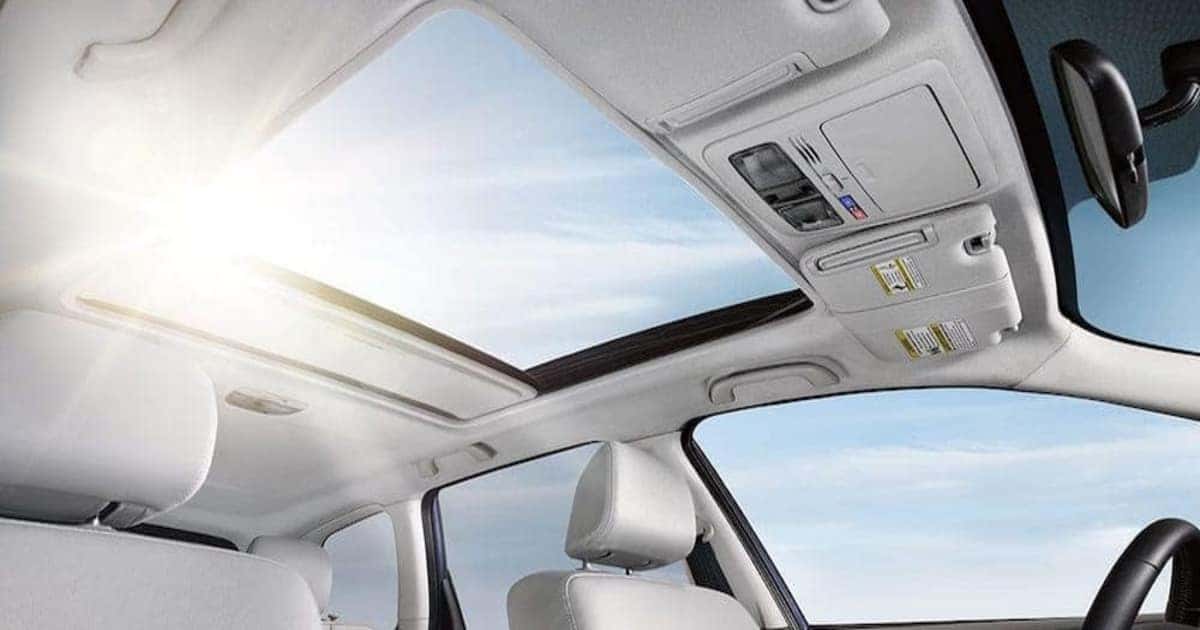 While many people use the terms sunroof and moonroof interchangeably, there is a difference between the two. A sunroof is a panel made of glass or metal installed in the roof of a car, truck, or SUV, which slides open or pops up to allow light and air into the cabin. A moonroof is usually a clear or tinted glass panel that slides between the roof and the headliner, and often can be tilted open to let in fresh air. Either can make the interior of your car feel more open and spacious on your Elk Grove area commute.
What Are Panoramic Roof Systems?
The different types of sunroofs and moonroofs include pop-up, spoiler, inbuilt, top-mount, solar, removable, electric, and electronic. One of the most popular is the panoramic. These are usually offered as available options on most mainstream models, or as a standard feature for many luxury cars. Panoramic roofs come with multiple panels in the roof that are either operable or fixed. This allows front and rear passengers to open their panel for fresh air and sunlight — just the thing for enjoying Roseville's weather.
Used Vehicles with a Sunroof or Moonroof
Here at Kareem Auto Sales Inc we carry a wide assortment of pre-owned cars, trucks, SUVs, and minivans that feature a sunroof, moonroof, or panoramic roof. The best way for Folsom and Rancho Cordova shoppers to find a sunroof/moonroof-equipped vehicle is to browse our inventory. Some vehicles to keep an eye out for include:
Acura – Acura MDX, RDX, TLX, and TSX models equipped with a power moonroof.
Chevrolet – A Chevy Suburban with sunroof, or an Equinox with a panoramic power sunroof are both excellent choices. A used Chevrolet model offers a wide range of benefits for Roklin drivers.
Honda – Among the many advantages of a used Honda is the power/tilt moonroof featured in models such as the Accord, Civic, CR-V, Odyssey, Pilot, and Ridgeline.
Lexus – A power tilt/slide moonroof can be found on select models of the Lexus ES, GX, LX, and RX.
Mercedes-Benz – Used Mercedes models feature the premium amenities you'd expect from a world-class luxury automaker, including a power tilt/slide tinted glass sunroof in the C-Class sedan, a sliding and tilting glass sunroof with sunshade in the E-Class, and a panoramic moonroof in the S-Class.
Toyota – Look for models such as the Rav4, Land Cruiser, and Highlander which all can feature a power tilt/slide moonroof, also the Camry with a panoramic 2-panel moonroof. A moonroof is just one of the many benefits of driving a used Toyota.
Test Drive a Quality Used Car with a Moonroof in Sacramento!
If you're ready to get behind the wheel of a high-quality used vehicle with a sunroof, power moonroof, or panoramic roof, contact Kareem Auto Sales Inc. to schedule a test drive today. Remember to check out our pre-owned vehicle specials to find the best deals currently available, and if you have any questions, give us a call at (916) 473-1656. For more information like this, check out our how-to guide on replacing your Mercedes-Benz key fob battery.